SHARING A HERITAGE OF MINISTRY IN SOUTH BALTIMORE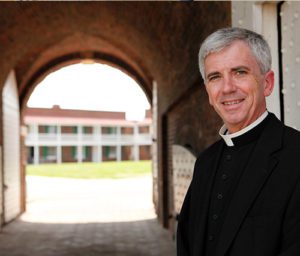 It is important for the Catholic Community of South Baltimore Parish not only to have an endowment to preserve the heritage that the former three parishes that make it up received from their ancestors, but also to leave something for its parishioners' descendants for years and years to come." These are the words of Rev. Patrick Carrion, the guiding force behind The Catholic Community of South Baltimore Ministry Endowment Fund.
Father Carrion describes the area's history of ministry as a rich one. Though the former parishes of Holy Cross, Our Lady of Good Counsel and St. Mary's Star of the Sea were not established until some 40 years after the writing of "The Star Spangled Banner," the Catholic ministry in the area was already thriving at the time of the War of 1812. This heritage … this ministry is what the endowment is designed to preserve.
The Catholic Community of South Baltimore chose to establish its endowment with the Catholic Community Foundation. Father Carrion states, "We invited all the parishioners to get involved. The endowment was set up in a way that everyone can participate – whether their contribution is $100, $1000 or $10,000 – each person has the opportunity to help sustain the heritage of ministry in South Baltimore."
He concludes, "What we did here, any parish can do."