"I've been very blessed, and I feel it's my obligation to give something back," said John Balch. For him these are more than words. They express a way of life.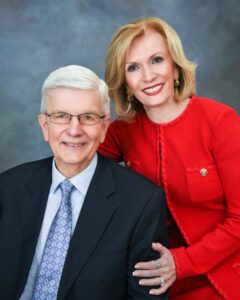 Aside from his time at University of Maryland School of Pharmacy, Mr. Balch is a lifelong resident of Cumberland, Maryland. He has been President of the Catholic Community Foundation for nearly 10 years. In addition, he has been deeply involved in community efforts in Cumberland, helping build a new YMCA and a new hospital campus there. Furthermore, in 2017, he and Roslyn, his wife of 48 years established The Balch Family Endowment Fund for St. Anthony Place to help those who have fallen on hard times or just experiencing difficulty making ends meet.
Cumberland, Maryland was once a city with a thriving industry sector. But, as is true of so many manufacturing-based communities in the U.S., things are not what they once were. Many residents find themselves in need of life's necessities. Through St. Anthony's Place, Our Lady of the Mountains parish is doing its part to help those in need, assisting families with non-perishable food and cleaning supplies, as well as assistance with rent and public utilities.
Of the help St. Anthony Place is providing, Teresa Files, Executive Assistant at the parish, said, "There's nothing harder than to know someone's hungry, especially when it comes to the elderly and the children … and we see a lot of them. Distributions from the Balch Family Fund really put us in the position to say 'yes' a lot more than we normally could."
Mr. Balch said, "St. Anthony Place is a wonderful safety net for people. They know that they can come here to address some needs that can't be addressed elsewhere When I originally approached my wife about establishing this fund, it was paramount to her that the money be used primarily for food for children and families of our parish that needed assistance. St. Anthony Place honors that commitment."
Mr. Balch finds great satisfaction in helping others and feels that, though not his intent, the more he gives, the more he is rewarded in his personal and professional life. Mrs. Files echoes that sentiment when talking about the work she does at St. Anthony Place. "It truly is more a blessing for me and for the volunteers to help, than it is a blessing for those receiving our assistance."