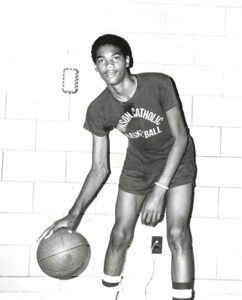 Laurence and Tori Harrison were both standout basketball stars at Towson Catholic High School. Laurence, who grew to be seven feet tall, went on to play at Wake Forest, and after college played professionally in Spain, Italy and Mexico.
Tori was a four-year letter winner and a two-year captain at Louisiana Tech, helping to lead her team to the NCAA Final Four twice. Her career in coaching spanned five leading University women's basketball programs before ultimately landing her as head coach at Coppin State and Rider Universities.
Edith Harrison, Laurence and Tori's mother, said, "We're a basketball family. My husband played in high school and college. Laurence and Tori followed him. It's just in our blood."
Both Tori and Laurence received full scholarships to college. Sadly, they also shared a rare and incurable neuro-muscular disease known as Machado-Joseph. This cut both their lives far too short, with Laurence passing away in 2003, Tori in 2020.
After Laurence's death, the family established The Laurence E. Harrison, Jr. Endowed Scholarship Fund in the Catholic Community Foundation to benefit a member of the boys' basketball team at Towson Catholic (TC) High School. Cheryl Harrison, Laurence and Tori's sister said, "When my brother passed, we were looking for a way for his name to live on in the Baltimore basketball community. We believed that his playing basketball made a difference in his life. We wanted to help alleviate the financial strain [of Catholic School tuition] and help other young boys live out their basketball dreams."  When TC closed, this scholarship transferred to St. Frances Academy, a coed Catholic high school in Baltimore City.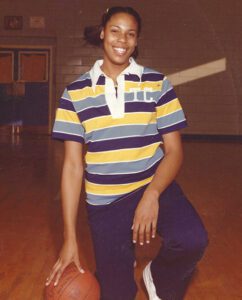 With Tori's passing, the Harrison Family established a similar scholarship in the Foundation that would benefit a member of the girls' basketball team at St. Frances, The Tori E. Harrison Endowed Scholarship.
Nick Myles, Director of Athletics and Boys' Basketball Coach at St. Frances, agrees that the scholarships will live up to the Harrisons' intent. "This is a way for kids to do something that they love," he said, "to get a great Catholic education, and to pursue their dreams of a college education."
Melissa A. D'Adamo, Vice President for Mission Advancement at St. Frances, added, "It's really meaningful. This financial help for families who are trying to put their students through St. Frances is life changing."
Lauren Williams, Tori's daughter summed up her family's feelings on being able to establish these endowments, "We're proud that both my mom and my uncle get to leave such a lasting legacy."