Establishing an Endowment with the Catholic Community Foundation is surprisingly easy and accessible to many individuals and families, requiring just a few easy steps.
For many Catholics, your parish is a second home. More than a place for Mass on Sunday, it is a touchpoint where fellow faithful gather to socialize, creating lifelong bonds based on shared beliefs. Sundays come and go, but your Catholic values guide you in all areas of your life. So, it's no surprise that you want to ensure that your "church home" and the causes that are dearest to you are supported through your contributions now and in the future.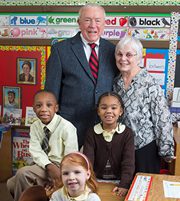 Building a Legacy
If you have reached certain milestones in your life, you may be thinking about how to balance the needs of your family with the legacy you want to leave. You may be thankful for the many blessings God has bestowed upon you and want to show gratitude. Or you may want to remember a loved one or instill philanthropic values to your family's next generation. A Catholic Community Foundation endowment fund can help you realize those goals.
Establishing an endowment fund with the Catholic Community Foundation helps you ensure long-term support for your parish or cherished archdiocesan ministry. Unlike other donation options, an endowment fund allows you to direct funds to the specific Catholic institutions, ministries, and programs that are close to your heart. Your donation can grow over time, ensuring that the beneficiary of your gift receives support in perpetuity, rather than a one-time gift that can be quickly depleted.
A Simple Solution: A Step-By-Step Guide to Establishing an Endowment with the Foundation
Establishing a Catholic Community Foundation endowment fund is surprisingly easy and accessible to many individuals and families, requiring just a few easy steps.
Prayerfully Consider A Cause
Look at the parishes, institutions, and ministries that are important to you and your family. Think about the causes that most resonate with you. Perhaps your children received an excellent education in Catholic schools. You may choose from a variety of funds that support Catholic education Or, you may choose to support a specific parish. Some choose endowment funds that provide financial support to charitable outreach partners that help the poor and vulnerable.
Funds can be tailored for specific purposes and institutions that you're most passionate about. Have multiple causes that are important to you? Don't worry. Your fund can have more than one beneficiary.
Explore Your Options
As a donor, simply contact the Foundation to establish a fund. You can discuss the many options available to you. The Foundation can help you determine the best amount for you to establish your fund while helping you work through other details, such as whom you might want to honor with your fund's name. This is a wonderful time for you and your family to reflect on your values and to draw you closer together in Faith.
Finalize the Details
Once you have decided on a beneficiary and initiated the process of establishing an endowment, the next step is to sign the endowment fund agreement. This agreement spells out the specifics of how the fund will operate, its beneficiaries and how they will receive disbursements, fund management details and other particulars of how the fund's assets will be managed and distributed. The Foundation's leadership will also sign the agreement and provide a copy to you.
Make the Initial Gift
Opt to fully fund the endowment with an initial gift of $25,000. Alternatively, you may begin with a $1,000 gift with the commitment to contribute a total of $25,000 to the fund over a time period, usually five years. You may also fund the endowment through a bequest by simply providing the bequest documents. Funding may be made with cash or securities.
Track Growth and Activity
Once the fund is established, you'll receive quarterly statements documenting its performance. Each April, the beneficiaries you have designated will be notified of the distribution available. They will receive their distribution checks in August.
As an added benefit, you may be eligible for a tax deduction in the amount of your donation in the year you make your gift to the Foundation. Certain restrictions may apply, so consult your tax preparer or financial advisor for more information about your situation.
Celebrate the Impact of Your Gift
The Catholic Community Foundation has over 500 endowment funds representing more than $85 million in assets under management. Our investment policy adheres to Catholic teachings. Your donation is invested in accordance with the principles of our faith and managed in a way that will maximize its impact. Our board of trustees and committee members also provide deep financial expertise, while a seasoned development staff works in tandem to advance and adhere to your giving intentions.
In addition to showing your gratitude for God's blessings, honoring your loved ones, and building a legacy, your gift creates an ongoing source of support that lives on in perpetuity. The causes you select will receive available distributions annually, which allows them to better manage their financial resources and make projections for their future. It's a gift that nourishes the spiritual community that means so much to you.
For more information about establishing a Catholic Community Foundation endowment fund, please call us at 410-547-5356 or contact us using the form below. Let's Get Started!